Though the low pressure has weakened this is the reason why the rain is heavy
The low-pressure area, which made landfall the other day, continues to be weak in central India. This will also strengthen the monsoon in central India. Observers at MetBeat Weather say that the system will also cause rainfall in Kerala to continue for a few days.
Though the low pressure has weakened,This is the reason for the heavy rain
Madhya Pradesh, Maharashtra and Chhattisgarh are likely to receive heavy rainfall. It has been raining heavily in these areas for the last two days. The recovered low-pressure area is over Madhya Pradesh as a cyclonic storm. Monsoon trough is also active. The cyclonic circulation also influences the winds in the middle part of the troposphere of the atmosphere. Therefore, the monsoon will remain active in most parts of the country due to this cyclonic storm,' said Weatherman Kerala, our founder.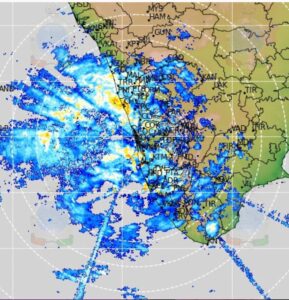 Rains to continue in Kerala too
Rainfall is likely to continue to be active in Kerala, Tamil Nadu and Karnataka. There is a possibility of more rain in central Kerala. There is a possibility of heavy rains in the districts from Kozhikode to Alappuzha in the next 24 hours. There will be heavy rains in the coastal areas and the hinterland. There is a possibility of waterlogging in Ernakulam city. Heavy rains will occur in Alappuzha and Thrissur. Heavy rains are likely to occur over Lakshadweep, Maldives, Sri Lanka and the Arabian Sea.
43% rainfall deficiency
Till yesterday, the rainfall deficiency in Kerala was 43 per cent. There is a slight change in the rainfall deficiency due to heavy rains in the last few days. The rainfall deficiency in Idukki has come down from 60 per cent to 58 per cent. After Idukki, Wayanad is at the forefront and Kozhikode is next.