September received 53% more rainfall; The rain will continue tomorrow.
With just 13 days left for the end of the official census of the southwest monsoon (monsoon), the rainfall deficit in Kerala continues to be around 40 per cent. There is a shortage of rainfall in all the districts except Pathanamthitta. Though Pathanamthitta has a 19 per cent deficit in rainfall, it is technically considered to have received normal rainfall.
In other districts, there is a rainfall deficiency of 21 to 56 per cent. Idukki and Wayanad recorded a 56 per cent deficiency in rainfall. Alappuzha recorded 21 per cent rainfall deficiency.
Kannur (-24%), Ernakulam (-32%), Kasargod (-27%), Kollam (-23%), Kottayam (-45%), Kozhikode (-48%), Malappuram (-40%), Palakkad (-47%), Thiruvananthapuram (-30%) and Thrissur (-46%).
September Received 53% more Rainfall
Last month, MetBeat Weather had predicted that rainfall would be recorded above normal in September, although rainfall was recorded below normal in August. The state received 53% more rainfall. As of September 16, only Wayanad district received less rainfall than it should have received this month. There is a 28 per cent decrease in Wayanad.
Kerala should receive 25 cm of rainfall in September. However, as of September 16, Kozhikode, Pathanamthitta, Kannur and Kasargod districts reported more rainfall than this month's average. Kasargod received 3 mm of rainfall, Pathanamthitta received 57 mm of rainfall, Kozhikode received 60 mm more and Kannur received 55 mm more.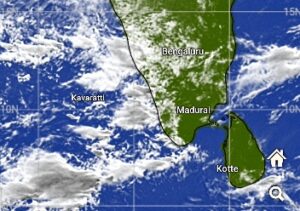 Rains to continue in north Kerala
Due to the low pressure over Rajasthan and the cyclonic circulation over the north Andaman Sea, isolated heavy to very heavy rainfall is likely to occur in Kerala, especially in the northern and central districts tomorrow as well. Isolated heavy rains will occur in Malappuram and Thrissur districts tonight.