The low-pressure area formed in the Bay of Bengal and recovered over Odisha the other day is moving towards central India. Due to the influence of low pressure yesterday, north Kerala received heavy rains. The low-pressure area over central India is likely to move in a west-northwesterly direction.
Possibility of rain with thunder
With this, Metbeat Weather expects that the nature of the rainfall received in Kerala till yesterday will change from today. As the low pressure reaches the central part of India, the strength and direction of the winds will change. Even today, clouds are forming on the coast of Kerala and they are reaching Kerala. There is a possibility of isolated rain in the coastal region today. The easterly winds are also entering the coast through Tamil Nadu.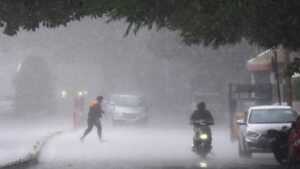 Heavy rains likely in Tamil Nadu
Therefore, there is a possibility of thundershowers in Tamil Nadu from today. The eastern part of Kerala and Edanad regions will experience thundershowers from today. There will also be strong winds accompanied by rain. This can lead to crop damage. The dangers of falling trees and so on should be taken care of.

Take care of the wind.
Vehicles should not be parked under trees or anything else when there is rain and wind. It is not safe for those travelling on bikes and other things to go through the trees when there is strong wind and rain. There will be no widespread rain in Kerala, we are saying isolated rains. Only some areas will receive rain and will last for a few minutes.
Thundershowers should be expected after noon. More rains are likely to occur in central and northern Kerala today. The southern districts will also receive isolated rainfall by evening or late at night.
There will be thunder, but it's not raining
Although there will be rain accompanied by thunder, it does not have to be considered as a dusk year. The wind pattern is still the same as that of the monsoon. The decrease in the strength of the westerly wind and the penetration of the easterly winds are the reasons for the rain accompanied by thunder. Convergence is likely to form over Kerala or over Tamil Nadu.
After the departure of the monsoon 20
Metbeat News had earlier reported that the monsoon will start leaving Rajasthan by the 20th of this month. Favorable atmospheric conditions will be ready by next week. The farewell process of the monsoon usually lasts about 45 days. The last time the monsoon departs is from Kerala. After that, the north-east monsoon season will arrive. The current observation is that thulavarsham will arrive by the second week of next month.